.
Chef Jérôme Bertin has published the cookery book Goût D'Antilles at Editions Mango Paris . He has just joined our team in Paris and will be introducing a few recipes to our readers
.
.
This month recipe is:
LAMB NOISETTES SMOKED WITH COCONUT HUSK
.
.
.
DIFFICULTY: MEDIUM – PREPARATION: 45 MINUTES – MARINADE: 2 HOURS –COOK TIME: 1H10 MNS – COST: HIGH
.
INGREDIENTS FOR 4 PERSONS:

1Kg (2.2 pounds) of lamb fillet (saddles of about 200 gr (0,44 pounds) each, bones off and trimmed – keep the scraps and bones to make the lamb jus)
1 carrot//
4 shallots //
4 garlic cloves //
3 leaves of Bay rum //
2 thyme sprigs//
6 cardamon seeds //
3 Caribbean seasoning peppers//
2 cloves//
1 star anise //
1 tablespoon of graines à roussir//
3 teaspoons of smoked tea //
3 tablespoons of honey //
1 tablespoon of cumin seeds //
2 teaspoons of allspice //
50 Gr (0.44 stick) of butter (for the roux) //
10 cl (3.38 fl oz) of white wine //
Olive oil , Coconut husk , Salt , pepper.
.
PREPARATION
.
Marinate the lamb saddles with a Caribbean seasoning pepper, 2 minced cloves of garlic, thyme and the cumin seeds, and stir over a trickle of olive oil. Knead the flesh with the marinade and keep cool at least 2 hours.
Prepare the lamb jus: Brown the bones and trimmings with the onions, the caribbean seasoning peppers and the carrot, then add the remaining spices and deglaze with the white wine. Let it reduce for 2 to 3 minutes, pour a liter of water, bring to a boil then skim and let it cook for 45 minutes under low heat. Filter out the jus through a sifter, add a tablespoon of honey and reduce with a roux (melt the butter, then stir in the flour with a whisk). Adjust the seasoning if necessary.
Preheat the oven to 180 C° /Th 6 (350° F). Brown the lamb fillet in a frying pan with a tablespoon of beurre noisette on medium heat until they take a nice color, or 2 minutes on each side.
Remove from heat, spread a damp cloth on each fillet, add the coconut husk on top, flambé and put a lid.
Put in the oven for 7 minutes. Slice each fillet in three and set on plates and coat with the lamb jus. Serve right away!
.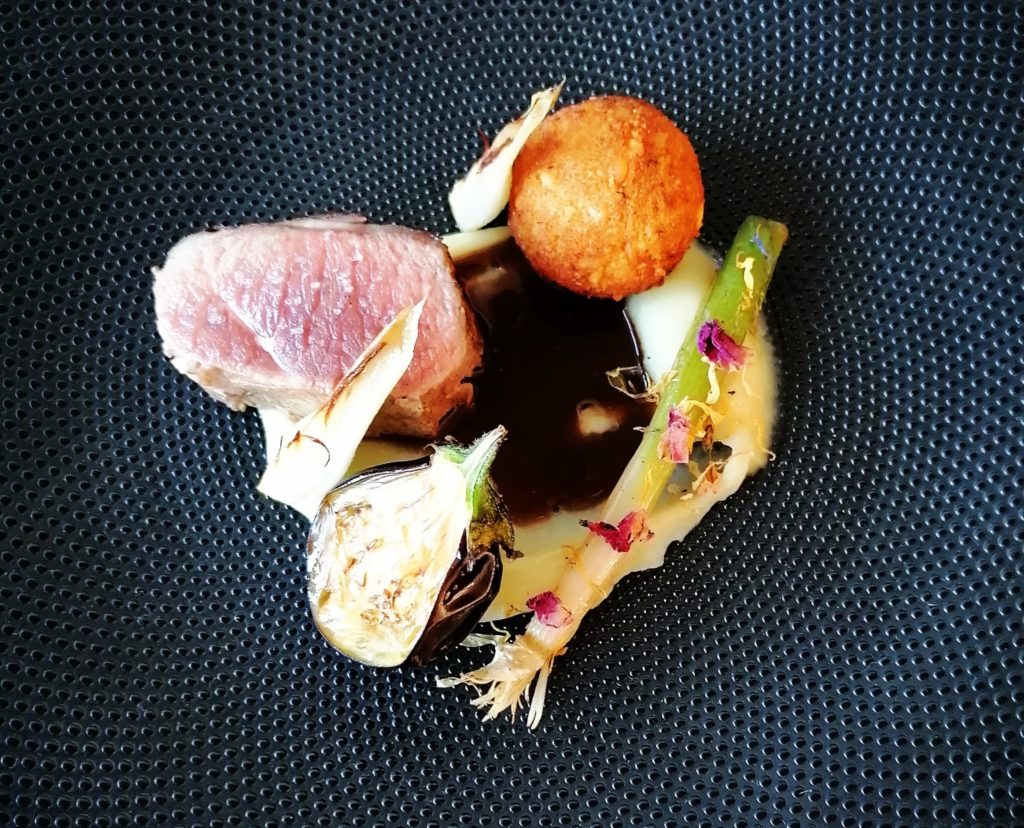 .
THE CHEF'S TIP
It is possible – and quite simple – to smoke naturally without a smoker thanks to the coconut husk. One technique is inspired from "boucanage", culturally practiced in all the Antilles: In a big deep pot called "canari", we set the meat on a grill and spread the coconut husk on top, then we flambé, cover and let it smoke.
This smoked meat, especially the "Poulet boucané" (Buccaneer chicken) is typically savored in the lolos, small roadside restaurants.
.
Notes: Graines à Roussir are the aromatic base of many West Indian recipes. Fried in hot oil or butter, they build the flavour of roasts, stews, gratins or marinades…
Ingredients for a small jar: 2 ½ tablespoons cumin seeds, 2 tablespoons coriander seeds.
.