---
By Jean-louis LORENZO
"He already has the dexterity to play like the greatest!"
It's one of those musical days we like so much in Medoc where, over the seasons, various talents follow one another from castle to castle. No doubt that nice music fits perfectly in the heart of vineyards. Actually, for a few days in Bordeaux, in the wonderful and original Cité du Vin whose success confirms as days go by, a second important art exhibition in held until the end of June 2018. It reveals all the richness of the bonds between music and wine through a sensitive, sound and visual journey. It gathers the arts of painting, music or scene. Musical and literary works were lent for the occasion by great French and international institutions. (Pluton Magazine will soon write about this event).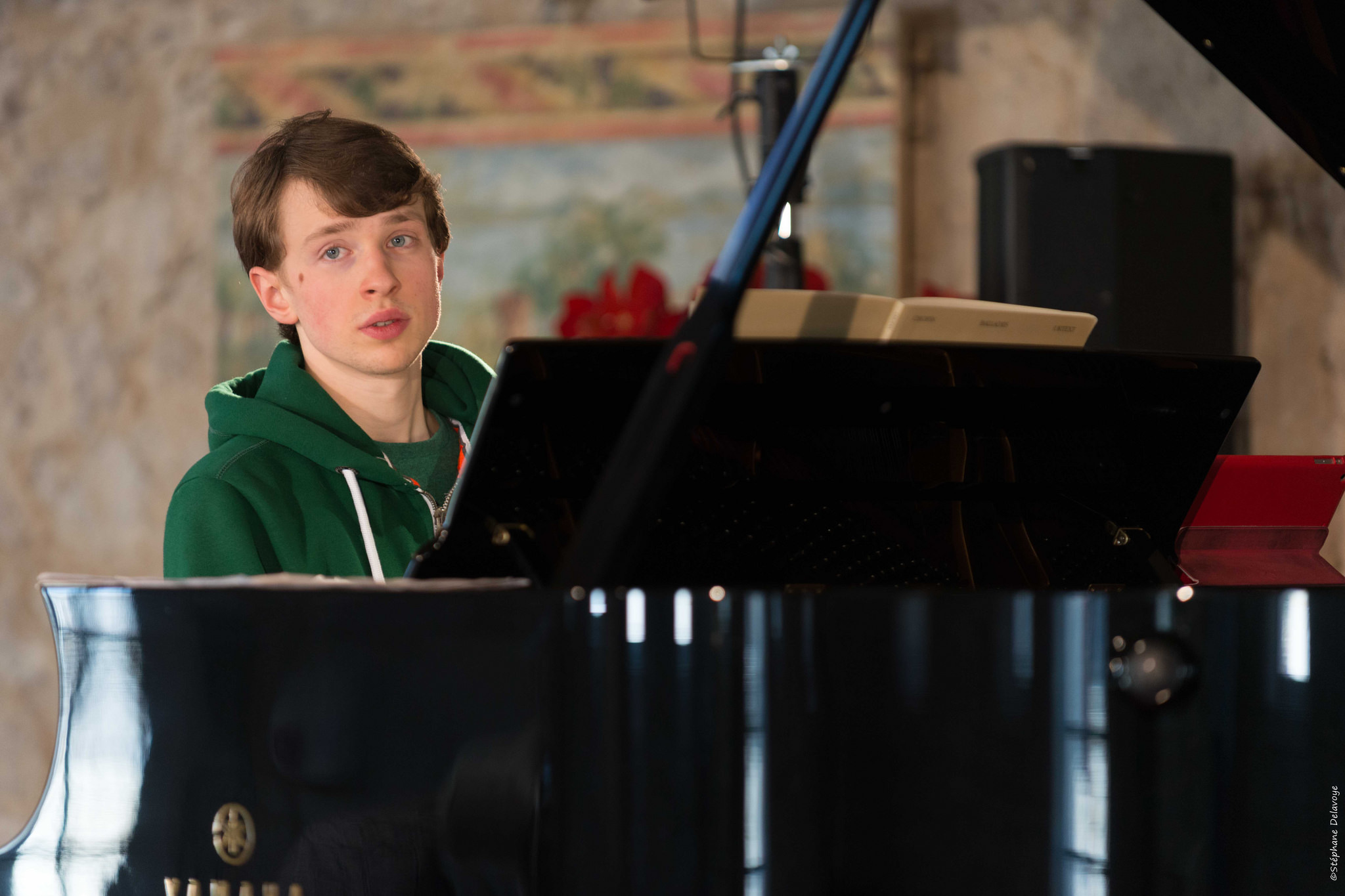 This Sunday 18th March 2018, at the Château Branaire-Ducru in Saint-Julien Beychevelle, Julian Trevelyan, the smiling blue-eyed talented young pianist was eagerly expected. The day started before the early-afternoon rehearsal, around noon around a laid table in one of the outbuildings, the luminous and pretty Orangeraie room. Of course, on the table there was a tempting bottle offered by the Château! Even with moderation, the young man wasn't tempted, work coming first. Only his father, who always accompanies him, accepted to have sip. Around 2pm, the young man sat at the piano, wearing a tracksuit, before putting on his scene suit later on for the concert.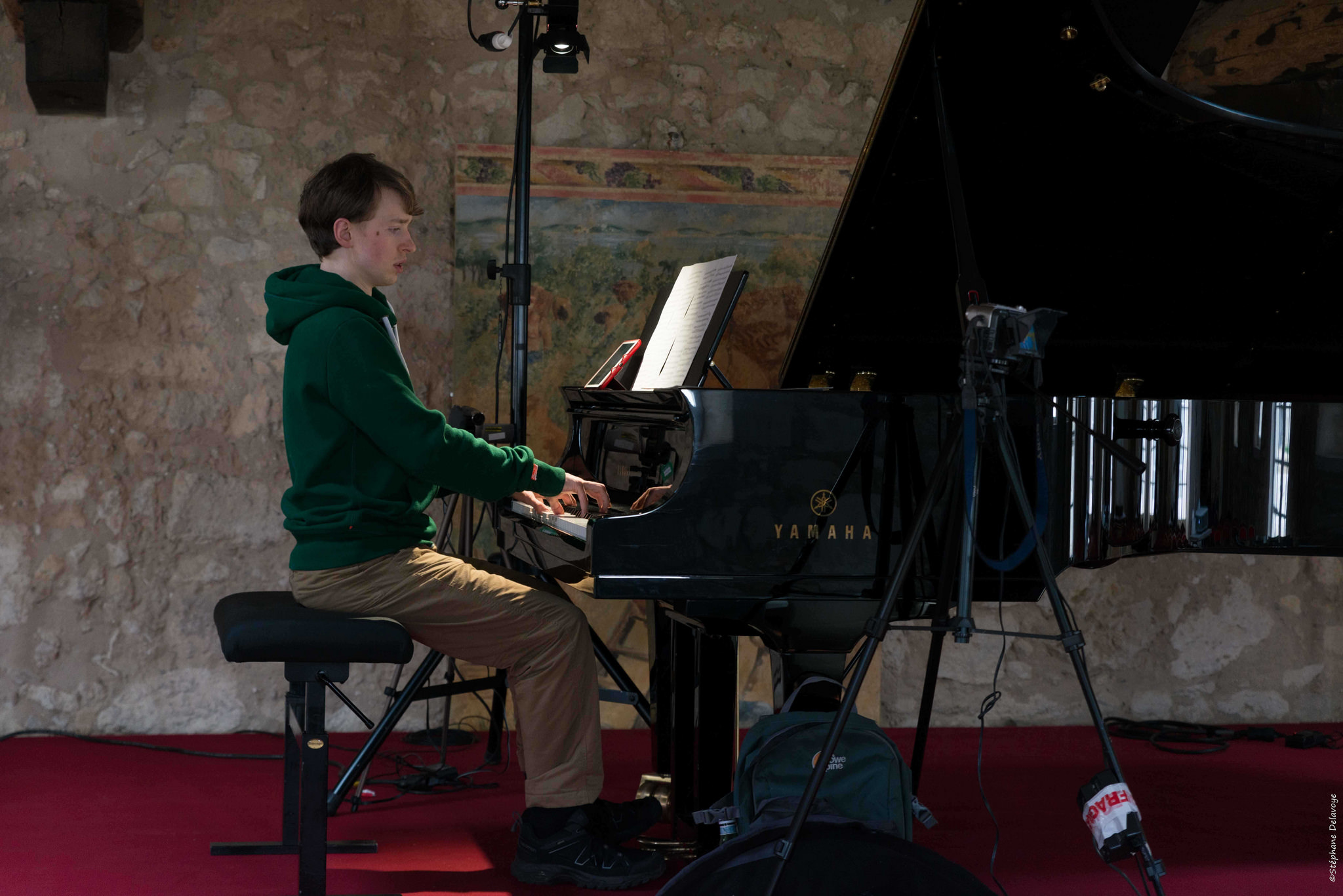 At 16, 2nd Grand Prix of the Long-Thibaut-Crespin Concours

It was in 2015. A prestigious award indeed! Everywhere he goes, the young man wins awards, such as the best interpretation of the concerto. Earlier this year, he won the first prize and the Mocsari Prize (Île-de-France); the Grand Prix of the Concours Festival for the Répertoire Pianistique Moderne (Paris); in 2016, in Germany, during the Kissinger Klavier Olymp, the second prize; during the same festival, the following year, the Luitpold prize awarded to the most promising young artist of the festival; and again in 2017, with the CBSO at Symphony Hall, with which he plays, Julian received not less than two prizes and his performance was recorded (listen: dipc.org.uk).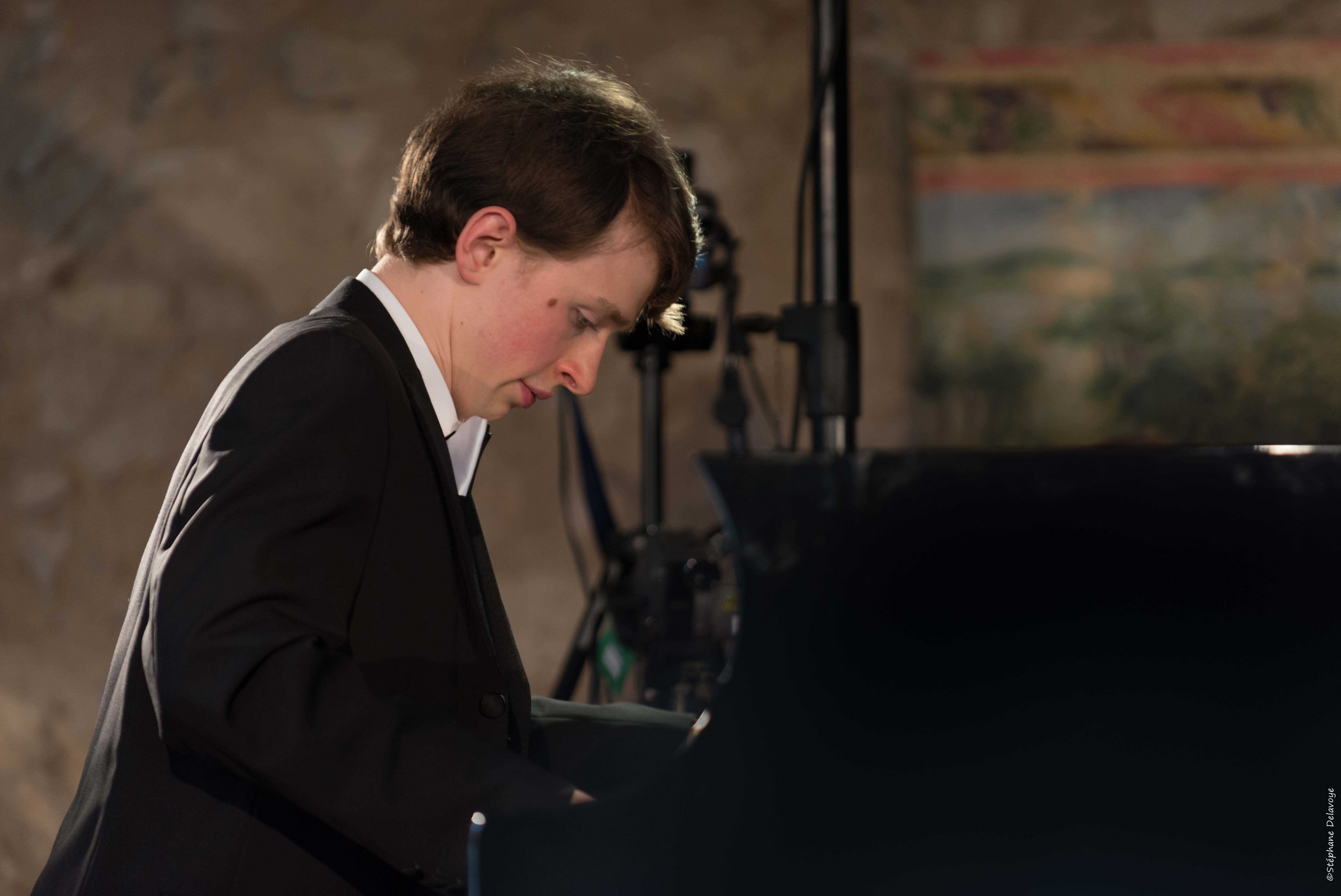 In 2016 and after his competition successes, he was invited everywhere, in France of course, but elsewhere in Europe, Russia, Switzerland, Poland, Germany, etc. We see him on TV, on Youtube and other social media, he's aired on radio stations, he plays Schumann, Mozart, Beethoven, his repertoire is wide, varied, modern and contemporary, as with Bartók, several etudes by Ligeti, sonatas by Prokofiev, Ullmann, Chostakovitch, etc. Let's also remember that in 2016, he played the Snowman Rhapsody world premiere, an arrangement for piano solo.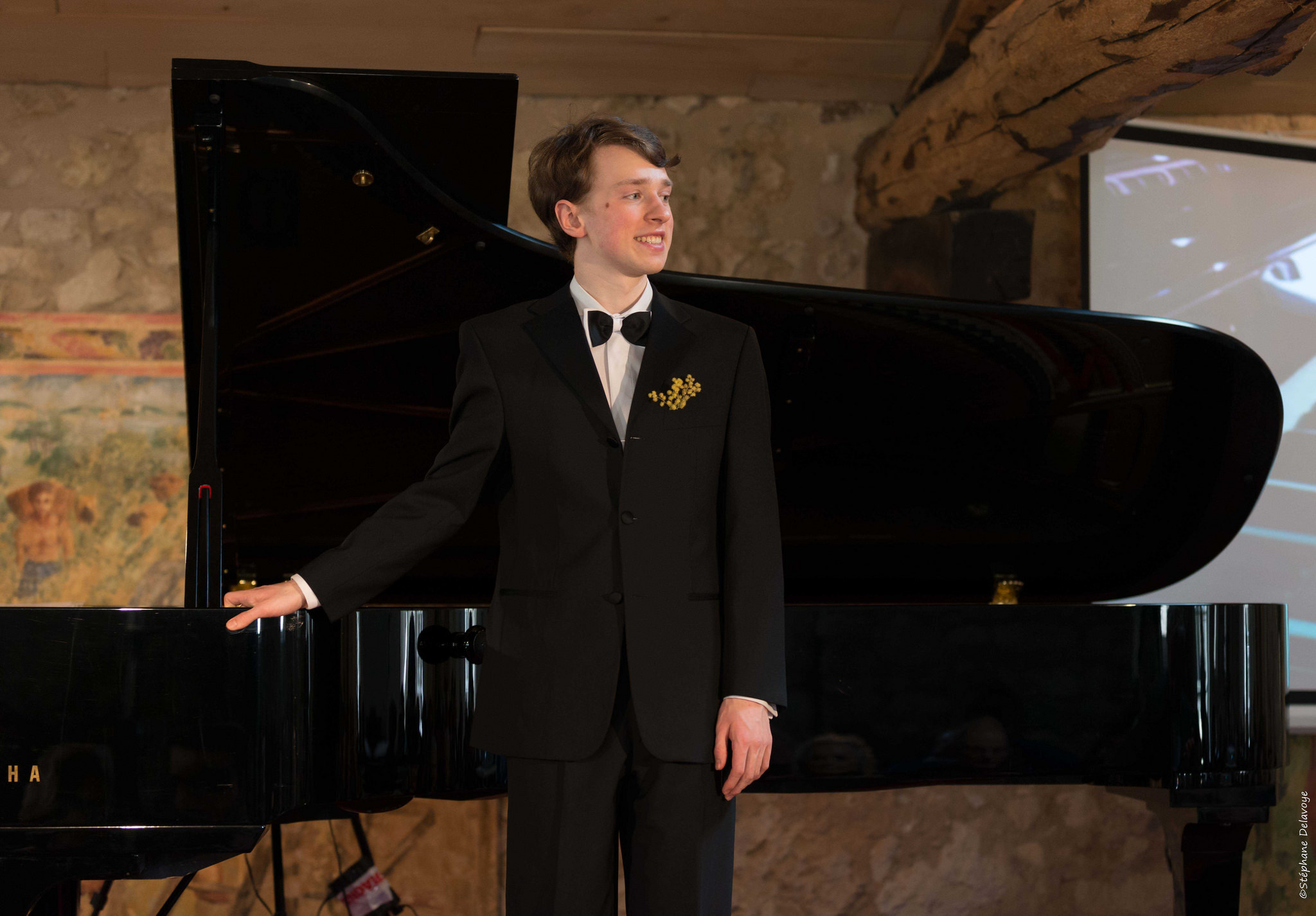 If piano is his main instrument, he also plays the violin. Julian was also a choir member at St Albans and continued singing with the Abbey Singers choir. His musical tastes are wide, they range from jazz to improvisation, through folk music. But this young man curious about everything has other passions, such as geology that he studies at the Open University. He has just finished his degree.
He now lives in Paris where he still studies and he already has several concerts planned, including in his home country, England.
 The audience of the Château Branaire-Ducru offers him an ovation
And of course he continues after his impressive overview, from 1539 with William Byrd (Sellinger's Round) and six other composers, Beethoven (A Major Sonata, op. 110); Chopin (F Minor Ballad, op.52); Debussy (L'Isle Joyeuse); Ligeti (Der Zauberlehrling – Etudes, Livre II); Mozart (A Minor Sonata, KV 310); Schumann (Humoreske, op. 20).
Besides, at the castle, the takeover is guaranteed. François Xavier, who is celebrating his 35th birthday on that day, succeeded his father. He's listening to the young pianist with great relish, sitting at the front row next to the hostess, his mother, Mrs Maroteaux – she has eleven grand-children –, members of the family and the director of the vineyard, Jean-Dominique Videau. They are the heirs of a jewel whose history goes way back in time and which is best known as of the 18th century. "For over a decade now, says François Xavier, we've been hosting concerts here twice a year, one at the end of winter, in March, and the other one in July, as part of the Estivales du Médoc. When I was younger, I lived in Paris and I wasn't around much but our parents used to tell us about those beautiful moments and we, the children, were delighted." As he succeeded his father, I go for a comparison with those often young virtuosos who succeed their prestigious peers…: "Ha-ha! Yes, we can see things that way if you want. And it's also true in the art of wine! I think that the takeover, in many fields, always comes at some point. It is also true in our activity, a field where there is a lot to do, where we are far from knowing everything and where we must try and renew ourselves in excellence. It's a bit like music, isn't it? Speaking for myself, I am glad I succeeded my father. Like in music, one has to deserve the heritage".
Of course, after Julian Trevelyan's performance, as part of his musical activities for the Musique au Cœur du Médoc, I ask François Xavier Maroteaux about his impressions: "Honestly, he's very impressive, and to think that he's just 18 and that he already has the dexterity to play like the greatest! When we're in front of him, we realize that he already has a huge repertoire. It's amazing that he can do so many diverse things. Yes, it's a future great pianist. And above all, we can see that he likes playing and it's probably the most important thing for him".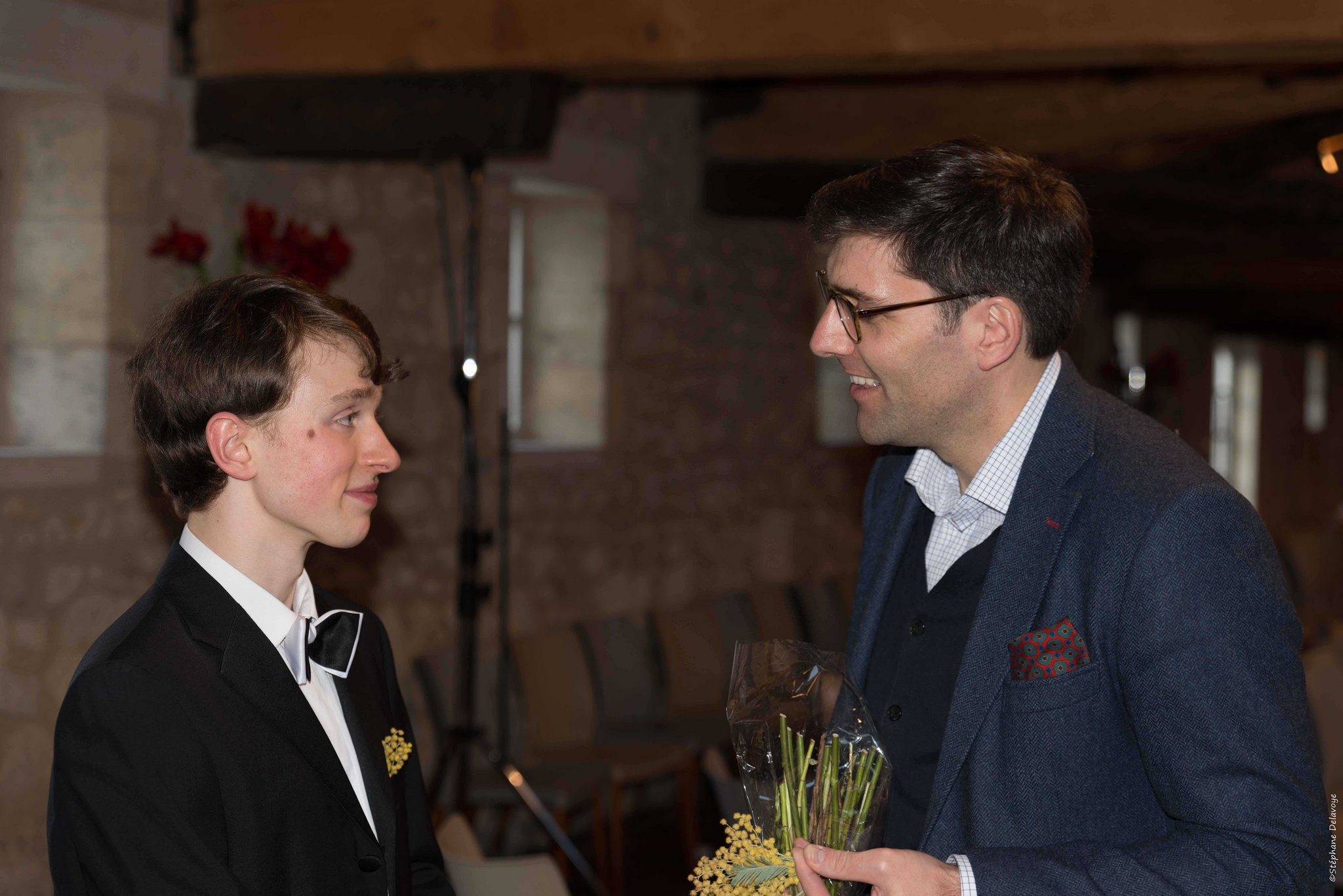 Feat: "During a single recital, Julian goes through all the musical eras!"
His name is Stéphane Delavoye and he is a particularly sharp eye and ear. Besides his sound engineer job and his passion for flying light passenger aircrafts, music is much more than a second nature for him, so much so that he can't spot rushing – or flying! – from one concert to another and if he came to the Château Branaire-Ducru, it was of course for his pleasure and above all to witness Julian's progress. He first met him in Lille, in June 2016, in a Mozart concerto, during the piano festival which gathers confirmed artists and young talents; he saw him playing with an orchestra.
This time, in Saint-Julien Beychevelle, he discovers him in a solo recital. Musician himself, Stéphane isn't what the business calls a "tour manager", he denies it. His approach is generous and passionate, that's it. It consists in helping young talents take off and many of them admit that he's able to give this little boost they are sometimes lacking because "they often lack very little to break through" he says. And of course, they sometimes become friends, as he did with young pianist Louis Schwizgebel, about whom Pluton Magazine published an article.
THE INTERVIEW.
JLL: You say you favour proximity because there are talents to discover "home".
SD: This is something I can do being here, attending local festival, encouraging programme planners to consider this or that young talent, then I support them for a few months, even more, the time necessary for them to create a network, to find a manager or to become a bit famous.
JLL: How does a beginner find a positioning between Liszt, Schubert, Mozart, Beethoven, etc.?
SD : I think this is the result of an experimentation which has been going on for several years. The best way to form one's personality according to each of those composers, to get some inspiration (as plenty of pianists have played those works over the years and won a lot of audiences, it's important to have some kind of reference) is to work with its own personality, its own vision of the work. What is logical nowadays, what people are looking for when they go to a concert is to see how a work which has been heard, which is known, which has been recorded, sometimes hundreds of times, is translated. People don't go to concerts to hear the same thing, they want to discover something and when a young pianist brings something new because of his/her personality, when he/she managed to instil it to a famous work, then people are happy they came to the concert. We have examples.
JLL: What about Julian?
SD: Ah! This young man has without a doubt huge technical skills, that is obvious. Today, he had "the guts" to put music composed between 1539 and 2006 in his playlist! That means that in a single recital, he goes through all musical eras… This is all the more interesting because we can guess in which one he is the most comfortable.
JLL: This means that he's already very open-minded.
SD: Yes, definitely! He clearly proves it, he tries a lot of things. He is at once choir member, violist, violinist, he enlightens through reading and thanks to his curious mind, he discovers plenty of musical styles, he offers them to his audience, which is a good thing because it changes from the monotony that we sometimes feel.
JLL: Can we already see what he likes best?
SD: Definitely! It's like if we had to compare haute couture clothes and determine which person they suit best. It's the same in music. And for the piano, it's the same too, it seems that some works, some composers are meant to be played by certain pianists.
JLL: So, according to you, to your intuition, to your sharp ear, what is meant to be played by this young prodigy?
SD: You have to admit it's not always easy to have a definitive idea with a single listening. During the recital, I felt that he was getting more comfortable, more liberated. I personally think his piano touch was much more beautiful during the second part. It's normal, there always stress at the beginning, there's an audience and an environment to get used to, such as the piano that he has only discovered during the rehearsal… and this Beethoven Sonata opus 110 as a starter, it was a big deal, it's not easy to give the fullest at the beginning. But yes, during the second part, the commitment was much more noticeable, especially on Schumann. The Mozart sonata was also very beautiful. Julian is a rather eclectic pianist with a lot of fineness in the works he plays. With maturity, I think he'll be able to commit more. This is more than promising!
JLL: I want to ask you how does he feel about all the other virtuosos that you follow?
SD: Among the ones I know, he's the youngest. He was awarded at 16, so he started recently. That being said, you have to admit it is difficult to answer that kind of questions. Young people sometimes have a great maturity when they play, regardless to how old they are. Julian is surely a pianist to follow because he has great skills and, as I've said, he is very curious about music. He is able to try a lot of different styles and I'm sur he'll find the way to success and become a great pianist. He's already very impressive
By Jean-louis LORENZO
Translation : Gotranslate Belgium
Photos  courtesy of  Stéphane DELAVOYE
Pluton-Magazine/2018
Musique au Coeur du Médoc /2018
Site Julian Trevelyan.