From Russia by Zetta ERMAKOVA



They say: no one is born a soldier. That's not true: they are born, they really are. She was born a soldier and lived like a soldier: the daughter of a hereditary soldier, a rank-and-file of the army of fashion, the commander of a mobile hospital, a Resistance hero, the godmother of a regiment in the Foreign Legion. Who is she? In a word: Elmeshan Hagundokova, Gali Bazhenova, Irene du Loire, who liked to call herself Leila. The heroine of two countries and three nations. French countess with a steel mountain rod inside.
Empires collapsed and borders were redrawn, the state came together in mortal combat – and Elmeshan-Gali-Leila-Irene always did what she had to do and what she could: set her shoulder up, saved and won. Cheerful and brave, austere and noble, full of courage and dignity Elmeskhan-Gali-Leyla-Irene is a staunch soldier who has defeated all life's troubles and defeated the river of oblivion itself.
.
Zurab Khagundokov, the girls' grandgrandfather from Kabarda (Nothern Caucaus) belonged to local nobility. The educated aristocracy traditionally understood that small people could not survive any other way than in friendship with a big neighbour.
So his son Ismail, 11, was appointed to the Alexander Cadet Corps for young children in Tsarskoye Selo. From the Alexander Cadet Corps for juveniles he entered the Pavlovsky Cadet Corps, after which he made a notable military career. However, « Ismail » will no longer be quite true: Khagundokov married a Russian noblewoman, daughter of a Russian consul in China, and before that was baptised into Orthodoxy under the name of Nicholas. In September 1871, Nikolai's first-born child was born, who was baptized Konstantin. In 1880 Nikolai died. But the orphan was not left under state care: in the same year Konstantin Khagundokov was admitted to the school for the children of wounded and murdered parents, from there he entered the 2nd Cadet Corps, and then the 2nd Konstantinovsky Military School.
.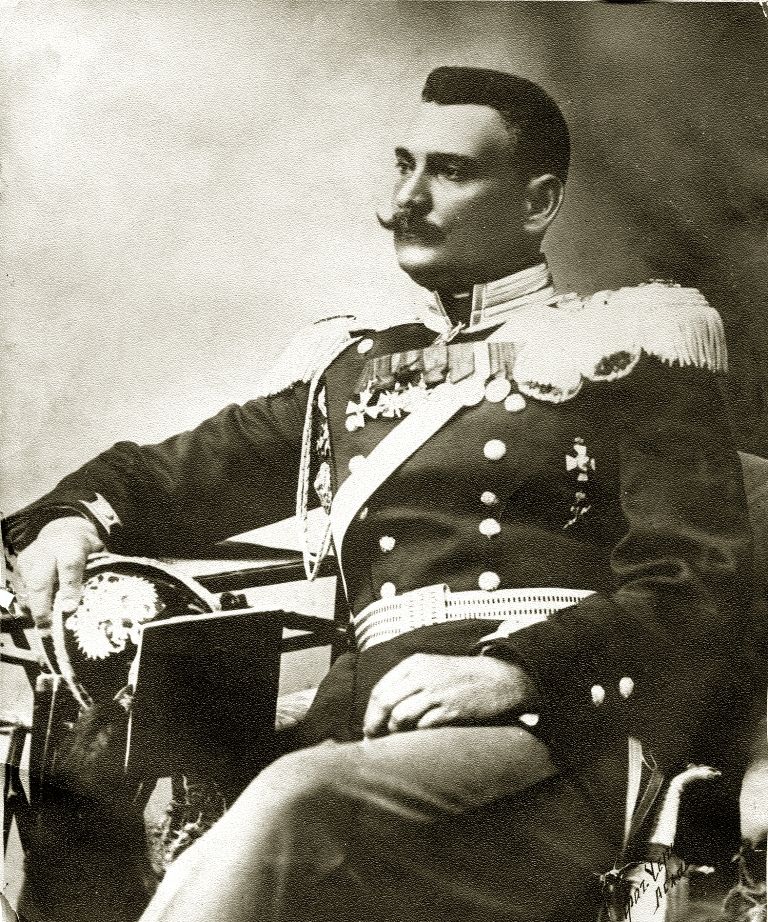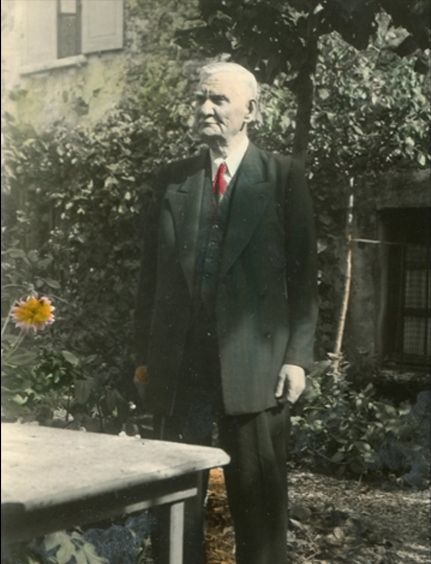 .
The young artilleryman graduated from the school in the first category of « full course of science » with the rank of lieutenant. And went on to build a military career. He served in Finland, in Turkmenia and China moving from West to the Est.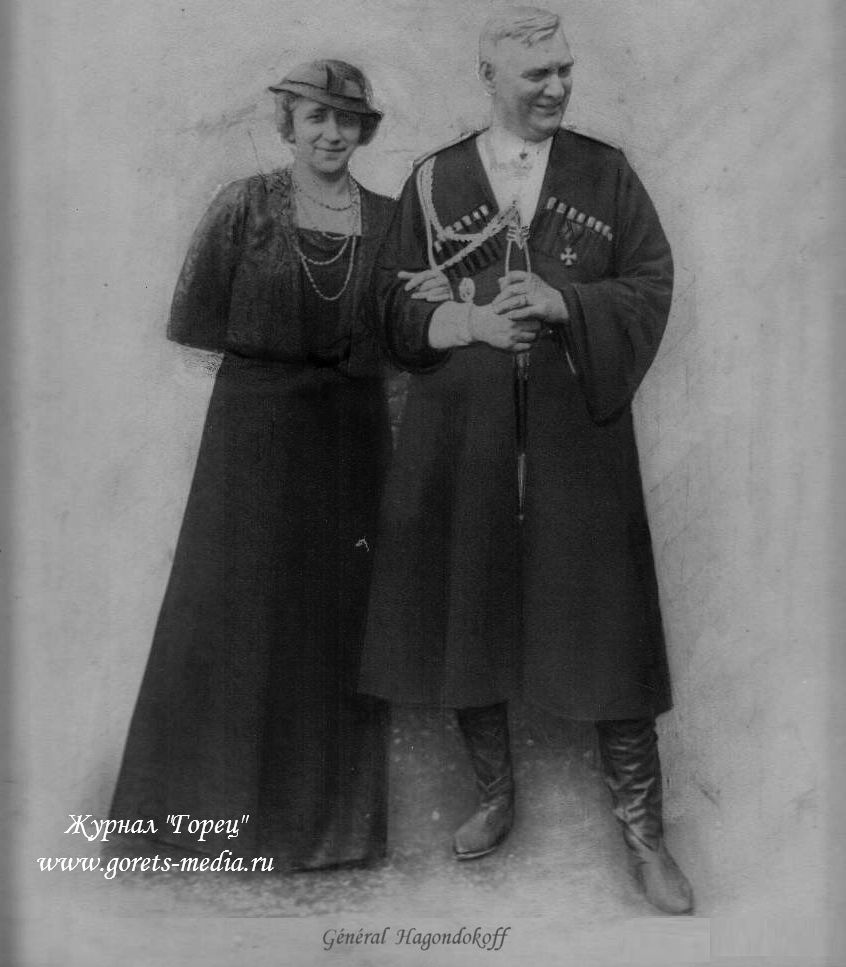 .
Konstantin Khagundokov managed to get married between his wanderings in remote garrisons. Elizaveta Bradova, the general's daughter, became the chosen Kabardin aristocrat. Her father, Russian military engineer Emil Bradov, a German by birth, came from the nobility of the St. Petersburg province, her two brothers were generals of World War I and were visible in the White Movement. Two military families were baptized, so who could have been born, if not a brave fighter? A brave warrior was born in St Petersburg – the revolution will cut out the hometown from the biography of Elmeshan-Gali-Leila-Irene. The second daughter of Konstantin was born on 6 February 1898 and was baptized… No one tells how! Kabardinian sources believe that the girl was named Elmeshan, and this is the pure truth: her father was pleased with the guttural sounds of his native speech. But an Orthodox by birth Hagundokov and a Lutheran, Elizaveta, who apparently accepted Orthodoxy in order to get married, had to baptize their daughter and give her a name from the saints. Apparently, it was Galina's name – hence the home name « Gali ». The girl herself really liked the name Leila – she will call herself Leila. The Hagondokoff's wanderings continue. Sveaborg (Finland) again, then the Academy of the General Staff with a break for the Russian-Japanese war, countless orders for bravery … From the war he returns to the Academy, and after leaving the Academy, he stays at his headquarters in St. Petersburg. Talking about the proximity of the Khagundokovs to the Russian court, it is usually also mentioned that Konstantin Khagundokov represented Kabarda at celebrations to mark the 300th anniversary of the Romanov dynasty.   
.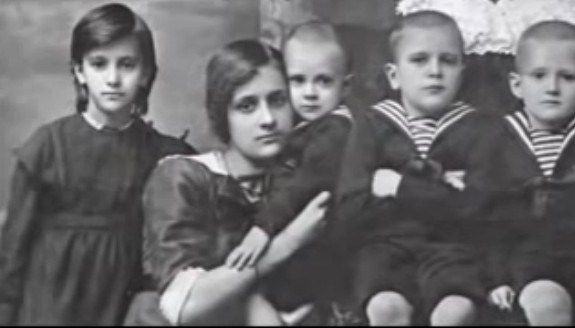 .
Meanwhile, Elmeskhan grew up, and the petitions of the tall and, according to some reports, most august people opened the doors of the Smolny Institute to a girl from a noble family. There is nothing to say – the right place to do so: in Smolny they raised firm tin soldiers. It is from there that Smolny was able to always keep a straight back – and in the figurative sense, too.
Elmeskhan received other lessons on self-respect and hardness in Karmovo (now Stone Bridge), in her father's family village in Kabarda. They will soon be useful – on the threshold of World War I. Elmeshan, a graduate from Smolny, with her mother and sisters, went to Kislovodsk, far from the war, and, as a patriotic girl from a noble family, she was admitted to the hospital as a nurse. Proud beautiful nurse with impeccable manners, wounded heroes …
There she met Captain Nikolai Bazhenov who fell in love fatally, achieved reciprocity and proposed Mom and Dad dissuaded Elmeshan, but who at 19 years old will listen to his parents?
The country is booming, in St. Petersburg and Moscow the Bolsheviks took power, the October Revolution is running through the country at the speed of a forest fire, and the gentle and indomitable Elmeskhan goes under a crown with a nobleman from Tula. He goes off to fight the Reds, leaving his pregnant wife in Kislovodsk. In December 1918, at the height of the Civil War, Elmeskhan settled the burden on her only son, whom she called Nicholas, after her father and in memory of her grandfather the Circassian.
GALI BAZHENOVA
Konstantin moved with his family to Kabarda, a family estate in Karmovo. Here an epiphany gradually comes: his world has collapsed irreparably. On the ruins of his life, very different people with alien values and views will build their world. The Khagundokov family no longer has a stake in their homeland. Through Novorossiysk and Constantinople their thorny way lies to the west, to Paris – this Mecca of tsarist and white officers.
The Elmeshan road went the other way, to the East. Nikolai Bazhenov was offered a place in the Russian-Asian Bank in Shanghai.  Driving in a goods store and without passports, the 9,000 versts road seemed endless. But in China Elmeshan had to face family quarrels added to the difficulties of everyday life. After the head wound, he received in Civil's,  Gali's husband could not change and life with him became unbearable. The indomitable soldier Gali Bazhenova bravely decided that it was time to save herself and her son. Divorce threatened hunger and poverty, but Gali was not afraid of danger. The weapon of a steadfast soldier is beauty, and it is time to put it into action. A young lady with impeccable appearance becomes a real jewel of a French fashion house in Shanghai. And it is not forever: having dug up money, Gali went halfway around the world again – to Paris, to her mother and father, to her sisters and brothers. To a country that would become her homeland. They will reciprocate each other, France and Gali: France will be kind to Gali, Gali will bring glory to France.
.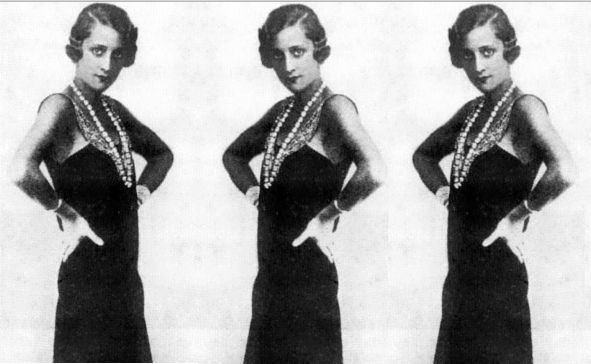 Gali Bazhenova, « the Russian beauty of the House of Chanel » as she was called by Paris fashion magazines in the 1920s. At the beginning of the Parisian journey, she did not mention her maiden name and only appeared as Bazhenova. Years later, she always stressed that she was a Cherkesheny.
.
Time, fashion and crazy earnings have made the model's profession super prestigious. In Paris in the post-war 20-ies, everything was very different. Hard and monotonous work of a live mannequin – the word « mannequin » will appear later – did not attract lively and wealthy French women. The daughters of Russian aristocrats, who had already lived through few values and managed to emigrate, entered the mannequins in mass. Tender beauties with excellent manners, dignified posture and precise figures were in demand and success. Those who excelled were especially encouraged by giving them outfits for publicity – for advertising purposes. Among these few star dummies, Gali Bazhenova quickly burst in. Prince Felix Yusupov recommended Coco Chanel a tall, slender and amazingly stylish blonde Gali. The Caucasian face of Chanel's house attracted the public, and soon the photo of Gali Bazhenova in her outfits from the great Coco was flashed on the pages of the magazines « Vogue » and « Femina ». But  he is a bad soldier, who does not dream of becoming a general! And Gali was smart, practical and incredibly active, and now under her supervision is Paul Poiret's fashion house, which she is renaming. It is as if she is signing an autograph: from now on the company is called « Elmis », half of her Kabardinian name. Together with her sister Tamara and brother George, she began to create evening dresses with a twist – beautifully embroidered. And the whole Khagundokov family went on to do so.
.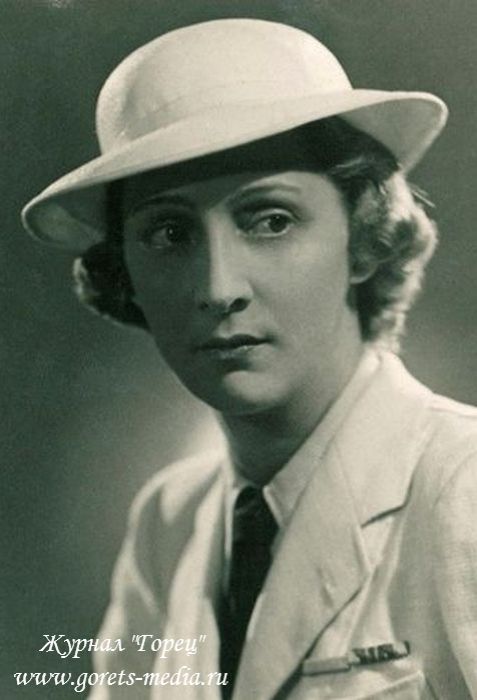 The icon, the centre and pride of the family, she worked like a scrap horse. Her son entered the transition age and she remained the same Elmeshan Gali – young, desperate and as hard as steel. She was the true daughter of her father, she was worth three of his sons alone. And she has always remembered her roots.

During the crisis, Elmis had to be sold, but Gali did not give up. In addition to beauty, her arsenals have another weapon – impeccable taste. And it goes into business too: Gali becomes a decorator and finishes flats to order. And again, the soldier's routine is difficult … But the romantic beauty, who loves luxury, could not stay a Cinderella forever. The fairy herself, in 1934, Gali found a real prince – Count Ladislas du Loire. « A delightful couple! » – will always whisper to them afterwards. Ladislas du Loire was Paris' most enviable groom. Two years younger than Gali (their birthdays next door, she was born on 6 February, he was the 5th), Ladislas belonged to a family from the highest stratum: an ancient aristocratic family, land, wealth, castles. Then, after the war, the brilliantly educated count would become a prominent politician, senator and would always be on the crest: nobility, success, power. But before going under the crown (by the way, the same famous Felix Yusupov will be a witness) the future Countess had to accept Catholicism. She chose the name Irene, although she continued to call herself Leila. It is Irene du Loire who will go down in French history and who will be the only (yet) woman to be sung in the Cathedral of the House of the Disabled.
.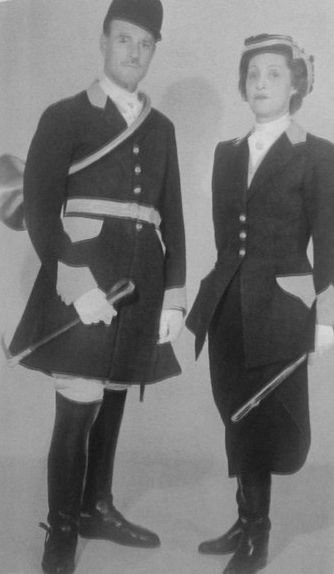 .
Irene settled in a castle in the province of Sarta and plunged into social life. Everyone was surprised: a Russian aristocrat of Circassian blood became a hundred percent Frenchwoman. And she did not lose a drop of charm of a Kabardine for a second. But the music did not play for long: the horizon was already rattling. The storm of war was coming – in Spain.
Irene du Loire hated the Bolsheviks fiercely – they took her homeland and condemned her to eternal hell of nostalgia. When she found out that the Republicans supported the USSR, she decided, with all the passion of a mountain nature, to take the other side. What can a fragile countess do?  A mobile surgical hospital is a boon, the Count du Loire has enough money for dozens of hospitals. The hospital will be located right on the front line and the wounded will be operated on immediately, saving hundreds and thousands of lives on both sides of the war. Then it will turn out that this was just a prelude, or, in military terms, art training. There is a big war on the doorstep. World War II.        
 Irene du Loire and her son Nikolai Bazhenov, who had by then become a US citizen, hated the Bolsheviks. Nikolai Bazhenov joined General Clarke's corps, with whom he arrived in North Africa. His mother also went to this theatre of war. Having overcome all obstacles Irene du Loire, at the head of a medical convoy she organized, goes to the front, where her boy fights the Nazis.
Fearless and unselfish, she is obsessed with one goal: to save as many lives as possible, to be as useful to the army as possible. But it turns out that there are many ways to be useful, and warring boys must be healthy not only in body but also in spirit. When you are separated from your loved ones, in the fiery hell of war you need a point of support, a living soul close to you. And the commanders of the Foreign Legion that was based in the neighbourhood also understood this. It happened not far from Rabat in Morocco. The commander of the 1st Cavalry Regiment, Colonel Michael, enchanted Madame du Loire, invited her to dinner. Madame was slightly surprised when the colonel took her to a dark alley. The dark alley led to the meadow, and Irene du Loire dazzled a bright light. When her eyes got used to the light, the Countess found herself standing in front of a lined regiment. « Do us the honor of becoming the godmother of the regiment, » the colonel asked. It is unimaginable to ignore such honor! And Madame du Loire's whole life was connected to the 1st Cavalry Regiment. On the second anniversary of her death, an obelisk dedicated to Irene du Loire was unveiled in Orange, where the regiment is stationed.
In the meantime, General Clarke's army is moving combat operations into Italian territory. The Countess du Loire is also landing in Italy with the General. Together with the fifth US army, her hospital is involved in the capture of Naples and she is moving north with the US troops. Somewhere in the vast battlefields, Count Ladislas du Loire, an interpreter officer in the US Army, is also fighting. The Scarlet Maquis of Monte Cassino will forever remember the terrible battle. « How we were mowed with black fire… » So beloved Irene and the mountains so similar to his native Caucasus were literally plowed with shells: the bloody Battle of Monte Cassino lasted four months! Under fire, they ducked, but did not stop operating.
.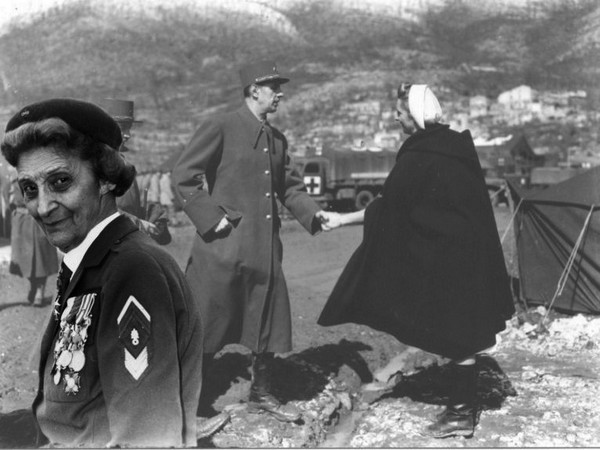 .
The Mobile Surgical Hospital is a personal idea and invention by Irene du Loire. The hospital was almost on the front line. Blood transfusions, surgeries and rescue from frostbite – the Battle of Monte Cassino began in January, and it was cold in the mountains at that time in Italy. The hospital was well-equipped: Irene du Loire spared no expense and raised funds for the hospital from her many friends in different countries. « She could do anything! » – The former young nurses of the mobile hospital, Irene du Loire, are still admired. – She could have gotten super-deficient penicillin! »  Not being a medical doctor by training, the Countess was deeply involved in medical problems and her hospital used the latest technology. She was obsessed with cleanliness and discipline, loved to command, was incredibly hard on nurses and demanded impeccability. At the same time, she was impeccable: never forced to work, idling on her own, always finding a kind word for the staff and the wounded, taking care of their spiritual and bodily health, supporting them in difficult moments, sharing their grief and joy.
.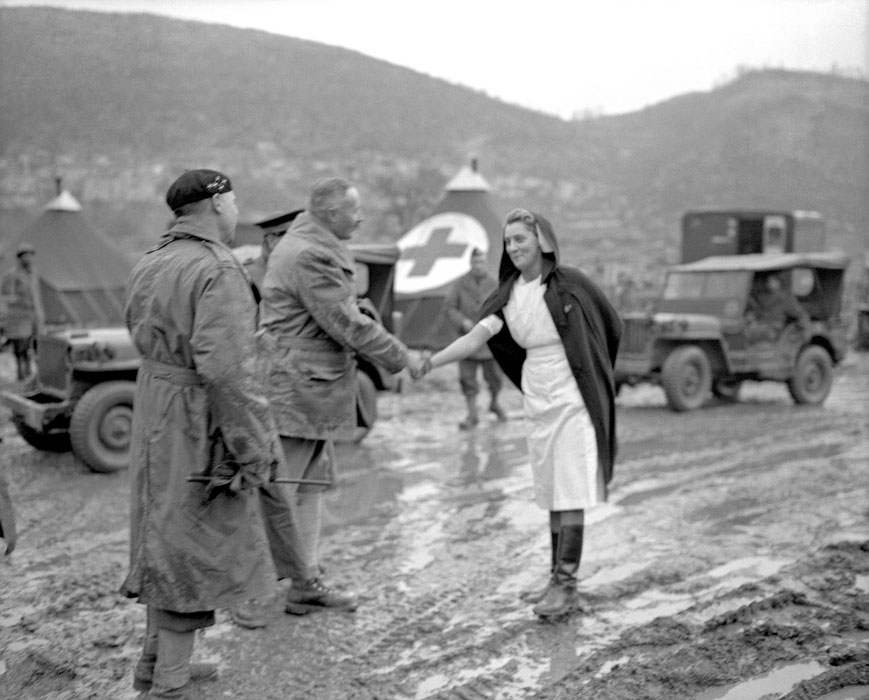 .
The nurses worked waist-length in mud, but in white aprons and with clean collars, drank tea on tablecloths with a beautiful napkin, and under homemade lampshades, combed carefully, and the wounded were stretched on a stretcher, sheets unimaginable in the heat of battle! The Countess was an object of adoration and admiration. « She was a mother to us », – old nurses today do not hold back tears. It was a day that Irene du Loire brought closer as she could. And it came – the Day of Victory.  She promised that she would only wear an evening gown and jewelry after she had defeated the enemy and kept her word. It's a pity that you can't pin awards on an evening gown: the incomparably brave and justly deserved Countess du Loire has a whole iconostasis of them. But the real reward for Irene du Loire is the timid gratitude of the saved. And the supreme good in heaven is that her only son survived! And after the war, mother and son were not separated: Nikolai Bazhenov was seconded to the US Embassy in France. He married a lovely French girl, but Leila did not wait for her grandchildren: the marriage quickly cracked and collapsed, and Nikolai had a brain tumor, and in December 1954 he died. Irene seemed to have run out of life. There were few letters and photographs left – they were the ones that filled those desperate days. Count Ladislas du Loire was also grieving: he was very friendly with his stepson. But he had an outlet in his life: he worked hard to build a political career, was active in the farmers' union and was elected mayor of a small town. Leila also found her soul. When a persistent soldier feels bad, he goes to the aid of others. And in this he discovers his salvation. 
A soldier knows how important a strong spirit is in a war. Madame du Loire's new idea runs through the department of mental health: Algeria is at war for the second year; Algeria has broken out of obedience and wants independence. The French soldiers are physically and mostly morally exhausted: not everyone is convinced of the righteousness of the colonial war. And she went back to North Africa to open a rehabilitation centre. There they feed deliciously and say it affectionately, there's a corner of the world in a battleground, there's the Countess du Loire – phenomenally courageous, extremely strict, easy to handle and infinitely responsive to any human need. Over half a century old soldiers with Gallic liveliness and tears in their eyes tell us about her what has crashed into the heart forever. They still call her the godmother and still savor the smallest details of their young life, which is illuminated by the warm memories of the Comtesse du Loire. She met their girls, listened to confessions and solved their problems. With soldiers, she was a soldier, not a Countess.
In 1959, France honored Irene du Loire with the Legion of Honor, the highest acknowledgement in the country, and she was awarded the title of Commander of the Order. The Legion of Honor is a community of the elite of the living, » said General de Gaulle, and Madame du Loire was undoubtedly a member and adornment of this elite. Oh, she knew her place on Earth, no doubt about it! And this place was in the front row – where history is made. In her soldier's satchel, there was a Marshal's Rod from the very beginning. The war in Algeria was over, but Irene did not part with her army. The godfathers do not abandon godchildren – the regiment remained her family. All the more so because her family redrew: her parents left earthly life in due course, in 1977 he was seriously injured in a car accident and her husband died in 1980. A delegation from the 1st Cavalry Regiment, Madame du Loire's second family, came to the funeral. 
.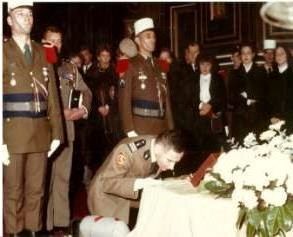 .
In a few weeks, death gave her a sign. Irene du Loire passed out at the wedding of one of the captains of her home regiment at St Louis Cathedral in the House of the Disabled. On 21 May 1985, she was sung here at St Louis Church. Surrounded by her army, Irene was leaving as Marshal. Above the coffin of her godmother, legionnaires were marching the 1st Cavalry Regiment. The shaken public froze, tears poured out of their eyes. Leila has rested in a family crypt in the cemetery of Saint-Genevieve de Bois, next to her son.
Until her last breath, Elmeshan-Gali-Leila-Irene had remembered her origins, and hot Kabardinian blood was pulsating in her until her death hour. The blood of real warriors comes from the Caucasus. With the iron hand of history, the Khagundokovs of Kabardin origin were pulled out of their native soil, the Caucasian War nailed them to the Russian shores, and the revolution sent strangers on long journeys to their shores. It grew and strengthened in France: General Konstantin Khagundokov and his famous daughter, the heroine of France Irene du Loire, ended their days there.
.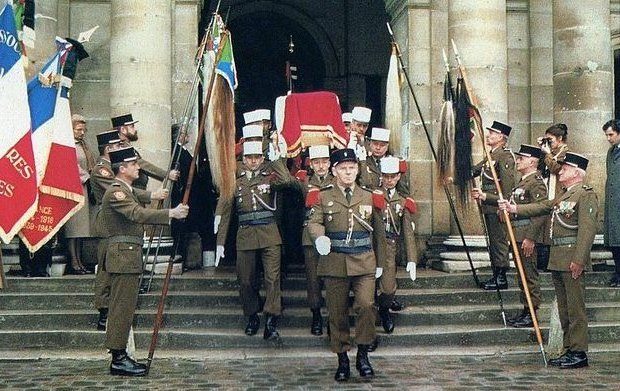 .
By Zetta ERMAKOVA (Russia)
Pluton-Magazine/2020/ Paris16
A TRIBUTE to 75-th ANNIVERSARY OF GREAT VICTORY:
A WAR CAN HAVE A WOMAN'S FACE (based on the material by www.gorets-media.ru)
.