.
15th AGS International Graduate Student Conference (Virtual Edition)
STATELESSNESS in IR: CAUSES, CONSEQUENCES AND COVID 19 April 30, 2021 -14:00-18:00
.
.
AGENDA
14:00 – 14:15 Welcome
Corentine Chaillet, American Graduate School in Paris
14:15 – 14:25 Opening Speaker, Dr. Marcia Grant
International Keynote Speaker
14:25 – 14:35 Moderator: Ambassador Michael Einik, AGS

Panel 1 Introduction

14:30 – 15:15 Panel 1:
 COVID 19: Its effect on stateless persons and the ripple effect on citizens
 Climate change, statelessness and international law
 Statelessness and Digital Citizenship: Identity and Nationality
15:15 – 15:30 Break
15:30 – 15:40 Moderator: Ambassador Domonique Dreyer, AGS

Panel 2 Introduction

15:40 – 16:25 Panel 2
 Psychological Effects of Israel's Security Narrative on
Palestinians in the West Bank and Gaza: Implications for
conflict management
 The Hidden Child: Examining the Effects of National Reproductive Rights
Laws on Statelessness.
 THE UN's Statelessness Global Action Plan: A Case Study on Myanmar
16:25 – 17:00 Q&A and Potential Solutions
17:15 – 17:45 Keynote Speaker – Dr. Maya Rockeymoore
17: 45 – 18:00 Closing Remarks – Dr. Ruchi Anand, AGS
Speakers, Moderators and Panel
.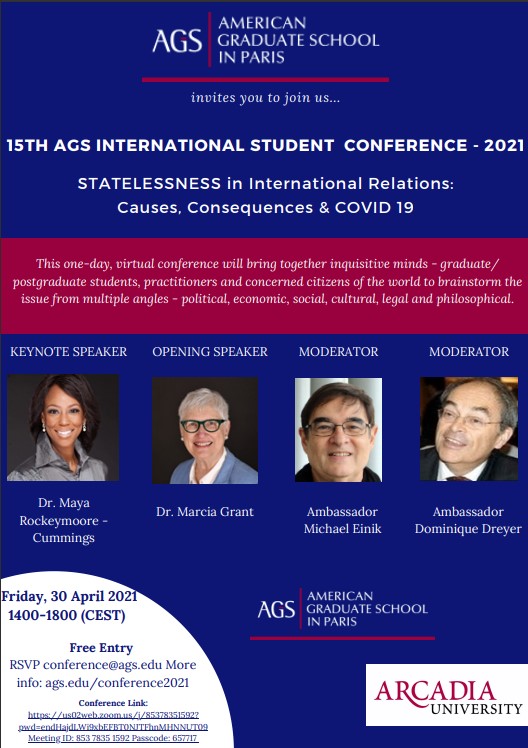 .
Opening Speaker: Dr. Marcia Grant
.
Dr. Grant has had a fascinating global career as an academic entrepreneur, serving as founding Dean at three American-style international universities abroad. Her work has always been characterized by a deep interest in student learning, in excellent teaching, and in faculty development. Grant helped to found Effat University, the first women's liberal arts college in Saudi Arabia, the arts and sciences division of a liberal arts university for the Aga Khan in Pakistan, a new curriculum at Foreman Christian College in Lahore, and, most recently, the liberal arts curriculum of an American University in Ghana known as Ashesi, the brainchild of fellow Swarthmore graduate Patrick Awuah who just won a MacArthur for his work. Dr. Grant has been highly lauded for her academic leadership and her work as a political scientist and as a practitioner—with over 10 years of experience as a United States Foreign Service professional in both Paris and Mexico City. She is a graduate of Swarthmore and the Fletcher School of Law and Diplomacy at Tufts University, as well as London School of Economics, where she did her doctorate.
.
Keynote Speaker: Dr. Maya Rockeymoore
.
Dr. Maya Rockeymoore Cummings is an insightful strategist whose vast network and rich professional experiences working across the public, private, academic, and nonprofit sectors bolster her ability to identify emerging trends and make critical connections between complex social, economic, political, and technological phenomena.
Dr. Rockeymoore Cummings is the Founder, President and CEO of Global Policy Solutions LLC, a strategy firm that helps corporate, philanthropic, governmental, and nonprofit clients meet their strategic objectives. She is also the immediate past board chair of the National Association of Counties Financial Services Corporation and has served on a number of nonprofit boards including the National Committee to Preserve Social Security and Medicare (past board chair), National Academy of Social Insurance, National Council on Aging, and Baltimore Museum of Art. Dr. Rockeymoore Cummings has more than a quarter century working on innovative public policy and multimillion dollar social change initiatives. She directed the strategy to elevate closing the racial wealth gap on the national policy agenda, led a multi-million dollar initiative to reverse childhood obesity and promote healthy communities, was at the forefront of efforts to strengthen and expand Social Security, and was the architect of the first-ever study examining the impact of level 5 autonomous vehicle technology on the U.S. labor market.
A dynamic strategist, analyst, and advisor with a talent for visioning and agenda articulation and implementation, Dr. Rockeymoore Cummings is also an accomplished speaker and author who effectively communicates ideas to expert and lay audiences. She has testified before both houses of the U.S. Congress and spoken at events sponsored by numerous organizations such as the Centers for Disease Control and Prevention, the Robert Wood Johnson Foundation, and NASDAQ to name only a few. Her quotes and articles have been featured in publications such as the New York Times, Washington Post, The Atlantic, and Wired.com and she has appeared on MSNBC, CNN, ABC, CBS, Fox News, and NPR among many other outlets. The recipient of numerous honors and awards, including the Aspen Institute Henry Crown Fellowship, Purdue University Alumni Association 40 Under 40 Award, and the Congressional Black Caucus Foundation Congressional Fellowship, Dr. Rockeymoore Cummings earned her Ph.D. and M.A. in political science with an emphasis in public policy from Purdue University and her B.A. in political science from Prairie View A&M University.
.
Moderator: Ambassador Michael Einik
Senior Policy Level Diplomat, Ambassador and International Civil Servant
.
Fields of Expertise:
Diplomacy
International Relations
Foreign Policy Formulation
Science and Technology Policy
Military Strategy
Eurasia
Central Europe, Balkans, former USSR
EU/USA
Non-proliferation challenges
.
Moderator: Ambassador Dominique Dreyer, PhD
Assistant Professor
.
Fields of expertise:
Diplomacy
Politics of Far-East and Central Asia
Emergence of China
.
Link for the conference
.
Virtual Edition, 30 April 2021/ 14:00-1800 (CET)Conference Link: https://us02web.zoom.us/j/85378351592? pwd=endHajdLWi9xbEFBT0NJTFhnMHNNUT09 Meeting ID: 853 7835 1592 Passcode: 657717